Librarians & teachers rejoice! These 22 STEM-focused middle grade books are guaranteed to appeal to the budding scientists, naturalists, mathematicians, engineers, and inventors in your group. You'll find lots of ideas for kids ages 8-12 years. Check out the collection of Gold Rush Children's Books as well.

Middle Grade Fiction
ENGINEERING & INVENTIONS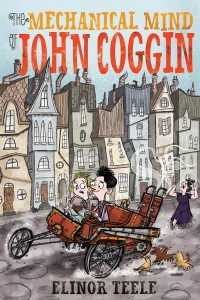 The Mechanical Mind of John Coggin by Elinor Teele, illustrated by Ben Whitehouse
Roald Dahl meets The Penderwicks in this quirky, humorous, whimsical, and heartwarming middle grade debut about two siblings who run away from home to escape working in the family coffin business!
A thwarted inventor, John Coggin knows there is no time to waste. His horrible Great Aunt Beauregard is ready to put his younger sister, Page, to work in the family coffin business. If they don't escape now, they'll be trapped for the rest of their lives.
Accompanied by an accident-prone acrobat named Boz, John and Page embark on a series of improbable adventures. Marvels of engineering are created and destroyed. Fireworks, chocolate cake, and exploding chicken poo mix with battles, blood, and heartbreak.
When Great Aunt Beauregard finally gets her hands on Page, it will take all of John's wits and imagination (and a little help from Boz) to save his sister from a fate worse than death.
The Mechanical Mind is also a STEAM book, with plenty of weird vocabulary, so teachers have used it for language-learning! Check out the free STEM-based Classroom Guide & Educational Activity Kit from Walden Pond Press/HarperCollins.
The Invention of Hugo Cabret by Brian Selznick
Orphan, clock keeper, and thief, Hugo lives in the walls of a busy Paris train station, where his survival depends on secrets and anonymity. But when his world suddenly interlocks with an eccentric, bookish girl and a bitter old man who runs a toy booth in the station, Hugo's undercover life, and his most precious secret, are put in jeopardy.
A cryptic drawing, a treasured notebook, a stolen key, a mechanical man, and a hidden message from Hugo's dead father form the backbone of this intricate, tender, and spellbinding mystery.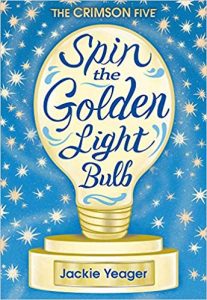 Spin the Golden Light Bulb (The Crimson Five) by Jackie Yeager
It's the year 2071 and eleven year-old Kia Krumpet is determined to build her 67 inventions, but she won't have the opportunity to unless she earns a spot at PIPS, the Piedmont Inventor's Prep School. Kia, who has trouble making friends at school, has dreamed of winning the Piedmont Challenge and attending PIPS ever since she learned that her Grandma Kitty won the very first Piedmont Challenge.
After she and four of her classmates are selected to compete for a spot at PIPS, they travel by aero-bus to Camp Piedmont to solve a task against forty-nine other state teams to earn their place at the best inventor's school in the country.
Nick and Tesla's High-Voltage Danger Lab: A Mystery with Electromagnets, Burglar Alarms, and Other Gadgets You Can Build Yourself (Series) by Bob Pflugfelder, illustrated by Steve Hockensmith
Nick and Tesla are bright 11-year-old siblings with a knack for science, electronics, and getting into trouble. When their parents mysteriously vanish, they're sent to live with their Uncle Newt, a brilliant inventor who engineers top-secret gadgets for a classified government agency.
It's not long before Nick and Tesla are embarking on adventures of their own—engineering all kinds of outrageous MacGyverish contraptions to save their skin: 9-volt burglar alarms, electromagnets, mobile tracking devices, and more. Readers are invited to join in the fun as each story contains instructions and blueprints for five different projects.
The Boy Who Harnessed the Wind (Youth Edition) by William Kamkwamba, and Bryan Mealer, illustrated by Anna Hymas
When a terrible drought struck William Kamkwamba's tiny village in Malawi, his family lost all of the season's crops, leaving them with nothing to eat and nothing to sell. William began to explore science books in his village library, looking for a solution. There, he came up with the idea that would change his family's life forever: he could build a windmill.
Made out of scrap metal and old bicycle parts, William's windmill brought electricity to his home and helped his family pump the water they needed to farm the land.
MATH & TECHNOLOGY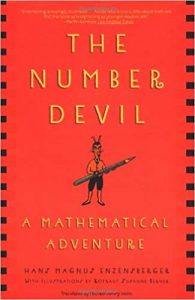 The Number Devil: A Mathematical Adventure by Hans Magnus Enzensberger, illustrated by Rotraut Susanne Berner
In twelve dreams, Robert, a boy who hates math, meets a Number Devil, who leads him to discover the amazing world of numbers: infinite numbers, prime numbers, Fibonacci numbers, numbers that magically appear in triangles, and numbers that expand without.
As we dream with him, we are taken further and further into mathematical theory, where ideas eventually take flight, until everyone – from those who fumble over fractions to those who solve complex equations in their heads – winds up marveling at what numbers can do.
The Phantom Tollbooth by Norton Juster, illustrated by Jules Feiffer
For Milo, everything's a bore. When a tollbooth mysteriously appears in his room, he drives through only because he's got nothing better to do. But on the other side, things seem different. Milo visits the Island of Conclusions (you get there by jumping), learns about time from a ticking watchdog named Tock, and even embarks on a quest to rescue Rhyme and Reason!
Somewhere along the way, Milo realizes something astonishing. Life is far from dull. In fact, it's exciting beyond his wildest dreams…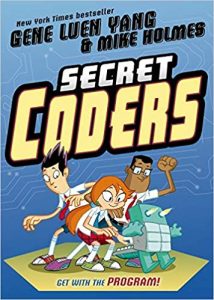 Secret Coders by Gene Luen Yang, illustrated by Mike Holmes
Welcome to Stately Academy, a school which is just crawling with mysteries to be solved! The founder of the school left many clues and puzzles to challenge his enterprising students. Using their wits and their growing prowess with coding, Hopper and her friend Eni are going to solve the mystery of Stately Academy no matter what it takes!
From graphic novel superstar (and high school computer programming teacher) Gene Luen Yang comes a wildly entertaining new series that combines logic puzzles and basic programming instruction with a page-turning mystery plot!
Click'd by Tamara Ireland Stone
Allie Navarro can't wait to show her best friends the app she built at CodeGirls summer camp. CLICK'D pairs users based on common interests and sends them on a fun (and occasionally rule-breaking) scavenger hunt to find each other.
And it's a hit. By the second day of school, everyone is talking about CLICK'D. Watching her app go viral is amazing. Leaderboards are filling up! Everyone's making new friends. And with all the data Allie is collecting, she has an even better shot at beating her archenemy, Nathan, at the upcoming youth coding competition.
But when Allie discovers a glitch that threatens to expose everyone's secrets, she has to figure out how to make things right, even if that means sharing the computer lab with Nathan. Can Allie fix her app, stop it from doing any more damage, and win back the friends it hurt–all before she steps on stage to present CLICK'D to the judges?
SCIENCE & NATURE
The Friendship Experiment by Erin Teagan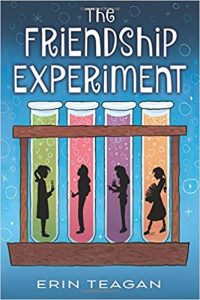 Future scientist Madeline Little is dreading the start of middle school. Nothing has been right since her grandfather died and her best friend changed schools. Maddie would rather help her father in his research lab or write Standard Operating Procedures in her lab notebook than hang out with a bunch of kids who aren't even her friends.
Despite Maddie's reluctance, some new friends start coming her way—until they discover what she's written in that secret notebook. And that's just part of the trouble. Can this future scientific genius find the formula for straightening out her life?
The Evolution of Calpurnia Tate (Series) by Jacqueline Kelly
Calpurnia Virginia Tate is eleven years old in 1899 when she wonders why the yellow grasshoppers in her Texas backyard are so much bigger than the green ones.
With a little help from her notoriously cantankerous grandfather, an avid naturalist, she figures out that the green grasshoppers are easier to see against the yellow grass, so they are eaten before they can get any larger. As Callie explores the natural world around her, she develops a close relationship with her grandfather, navigates the dangers of living with six brothers, and comes up against just what it means to be a girl at the turn of the century.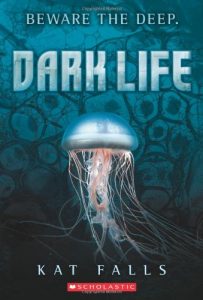 Dark Life by Kat Falls
The oceans rose, swallowing the lowlands. Earthquakes shattered the continents, toppling entire regions into the rising water. Now, humans live packed into stack cities. The only ones with any space of their own are those who live on the ocean floor: the Dark Life.
Ty has spent his whole life living deep undersea. When outlaws attack his homestead, he finds himself in a fight to save the only home he has ever known. Joined by Gemma, a girl from Topside, Ty ventures into the frontier's rough underworld and discovers some dark secrets to Dark Life. Secrets that threaten to destroy everything.
Forest World by Margarita Engle
Edver isn't happy about being shipped off to Cuba to visit the father he barely knows. The island is a place that no one in Miami ever mentions without a sigh, but travel laws have suddenly changed, and now it's a lot easier for divided families to be reunited. Technology in Cuba hasn't caught up with the times, though, and Edver is expecting a long, boring summer.
He was NOT expecting to meet a sister he didn't know he had. Luza is a year older and excited to see her little brother, until she realizes what a spoiled American he is. Looking for something—anything—they might have in common, the siblings sneak onto the Internet, despite it being forbidden in Cuba, and make up a fake butterfly. Maybe now their cryptozoologist mother will come to visit. But their message is intercepted by a dangerous poacher, and suddenly much more than their family is at stake. Edver and Luza have to find a way to overcome their differences to save the Cuban jungle that they both have grown to love.
Middle Grade Non-Fiction
HOW-TO
One Minute Mysteries: 65 Short Mysteries You Solve With Science! by Eric & Natalie Yoder
Not an ordinary mystery book, One Minute Mysteries makes science fun! Each one-minute mystery (solutions included) exercises critical thinking skills while covering earth, space, life, physical, chemical, and general science. A bonus section includes five mysteries from our upcoming title in the series, One Minute Mysteries: Solve 'em with Math! This entertaining and educational book is great for kids, grown-ups, schools, educators, homeschoolers and anyone who loves good mysteries, good science, or both!
Electronics for Kids: Play with Simple Circuits and Experiment with Electricity! by Oyvind Nydal Dahl
Why do the lights in a house turn on when you flip a switch? How does a remote-controlled car move? And what makes lights on TVs and microwaves blink? The technology around you may seem like magic, but most of it wouldn't run without electricity. Electronics for Kids demystifies electricity with a collection of awesome hands-on projects.
Citizen Scientists: Be a Part of Scientific Discovery from Your Own Backyard by Loree Griffin Burns, photographed by Ellen Harasimowicz
Anyone can get involved in gathering data for ongoing, actual scientific studies such as the Audubon Bird Count and FrogWatch USA. Just get out into a field, urban park, or your own backyard. You can put your nose to a monarch pupa or listen for raucous frog calls. You can tally woodpeckers or sweep the grass for ladybugs. This book, full of engaging photos and useful tips, will show you how.
Robotics: Discover the Science and Technology of the Future with 20 Projects (Build It Yourself) by Kathy Ceceri, illustrated by Sam Carbaugh
Named to the 2012 Chicago Public Library's "Best of the Best" Reading List for Informational Books for Older Readers, this is a fun and educational introduction to the exciting field of designing, building, and operating robots.
Along with background material and clear explanations of how robots work, Robotics features step-by-step instructions for building real robot models using ordinary craft materials and parts salvaged from recycled toys and other household devices.
INSPIRING FIGURES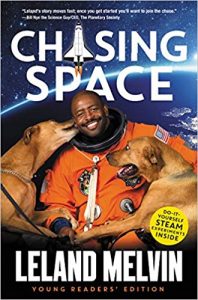 Chasing Space (Young Readers' Edition) by Leland Melvin
In this inspiring memoir, adapted from the simultaneous version for adults, young readers will get to learn about Leland Melvin's remarkable life story, from being drafted by the Detroit Lions to bravely orbiting our planet in the International Space Station to writing songs with will.i.am, working with Serena Williams, and starring in top-rated television shows like The Dog Whisperer, Top Chef, and Child Genius.
With do-it-yourself experiments in the back of the book and sixteen pages of striking full-color photographs, this is the perfect book to inspire young readers.
Hidden Figures (Young Readers' Edition) by Margot Lee Shetterly
Before John Glenn orbited the earth, or Neil Armstrong walked on the moon, a group of dedicated female mathematicians known as "human computers" used pencils, slide rules, and adding machines to calculate the numbers that would launch rockets, and astronauts, into space.
This book brings to life the stories of Dorothy Vaughan, Mary Jackson, Katherine Johnson, and Christine Darden, who lived through the Civil Rights era, the Space Race, the Cold War, and the movement for gender equality, and whose work forever changed the face of NASA and the country.
Girls Think of Everything Stories of Ingenious Inventions by Women by Catherine Thimmesh, illustrated by Melissa Sweet
This updated edition of the bestselling Girls Think of Everything, by Sibert-winner Catherine Thimmesh and Caldecott Honor winner Melissa Sweet, retains all the integrity of the original but includes expanded coverage of inventions (and inventors) to better reflect our diverse and technological world.
In kitchens and living rooms, in garages and labs and basements, even in converted chicken coops, women and girls have invented ingenious innovations that have made our lives simpler and better. What inspired these girls, and just how did they turn their ideas into realities?
Untamed: The Wild Life of Jane Goodall by Anita Silvey
Jane Goodall, one of the most recognized scientists in the Western world, became internationally famous because of her ability to observe and connect with another species. A girl of humble beginnings and training, she made scientific breakthroughs thought impossible by more experienced field observers when she was only in her twenties. Then these animals shaped Jane's life.
She began tirelessly fighting to protect the environment so that chimpanzees and other animals will continue have a place and a future on our planet. Jane Goodall continues to leave the modern world with an extraordinary legacy and has changed the scientific community forever.
Eruption!: Volcanoes and the Science of Saving Lives (Scientists in the Field Series) by Elizabeth Rusch
"At 11:35 p.m., as Radio Armero played cheerful music, a towering wave of mud and rocks bulldozed through the village, roaring like a squadron of fighter jets." Twenty-three thousand people died in the 1985 eruption of Colombia's Nevado del Ruiz. Today, more than one billion people worldwide live in volcanic danger zones.
In this riveting non-fiction book—filled with spectacular photographs and sidebars—Rusch reveals the perilous, adrenaline-fueled, life-saving work of an international volcano crisis team (VDAP) and the sleeping giants they study, from Colombia to the Philippines, from Chile to Indonesia.
Have a favorite that I haven't included? Contact me with more ideas for this list!