COME THE RAIN
Love and pride do battle in this stark modern tragedy. 3M & 1F.

Esther, the daughter of a dictator, has been sentenced to death for an act of courage in the civil war. On the night before her execution, she meets her guard – a foreign mercenary with a checkered past. In the dramatic events that follow, we learn what it costs to challenge the boundaries of family, truth, and fate.
---
WHITBY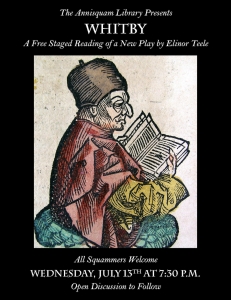 An absorbing historical drama with all the elements of a chess game. Based on a true event. 5M & 2F.

The Venerable Bede, famed chronicler of English history, is having a rough morning. It's a cold winter's day in A.D. 728 and he's due to complete a chapter on the Synod of Whitby – a pivotal event in Anglo-Saxon history when scheming kings, queens and bishops decided the fate of Northern Christianity.
What's written in the history books, however, is only the beginning of the story…