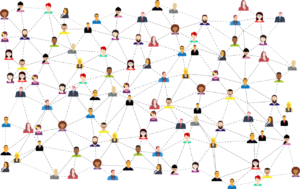 Everyone in the film industry talks about the importance of networking, but no one really explains how this works for first-time filmmakers. Here are some practical tips that I've picked up over the past few years that might help you in your journey.

PREPARING FOR MEETINGS
Build a Digital Résumé & LinkedIn Profile

Before you go to any in-person or virtual event, polish your online presence. In addition to social channels, have 2 other sites in place:
Digital Résumé: This can be a website or Vimeo page with your best samples, a summary of your current credentials/educational experience, and your contact details.
LinkedIn Profile: LinkedIn is not a film industry standard, but it's an underappreciated tool. I like it because it keeps me up-to-date when people change positions. Make your job title unique and put your credentials front & center in the first sentence of your About section.
Practice Your Introduction
This will be your greeting at conferences. Most folks I've met have had success with the following formula:
"Hi, I'm [name]. I'm a [positive adjective] [job title] specializing in [genre #1] and [genre #2]. And I'm attending [event] to [goal]."
This might work out to:
"Hi, I'm Hina Wright. I'm an award-winning filmmaker specializing in low-budget dramas and bio-pics. I'm at Sundance in order to find financing for my new film on Maria Tallchief and connect with fellow filmmakers."
Think About Your Connection Tools
You will need a way to follow-up with folks after the conference is finished.
Phones: If you want to exchange digital info, make sure you're able to add notes in your Contact entry so you can remember what you talked about.
Business Cards: If you want to use business cards, provide white space for people to make notes. You may—or may not—wish to put your photo on it as a visual cue.

FINDING INDUSTRY MENTORS
Become a Member of Industry Organizations & Groups
Women in Film & Television (WIFT) is one of the best. It has member chapters around the world. But there are loads of others. Belonging to a professional organization will allow you to:
Hear about virtual networking events
Find potential collaborators
Ask fellow members for advice
Check out this database of Independent Filmmaker Resources for more ideas.
Subscribe to Industry Directories
Cinando is a spectacular example—I received a free annual subscription when I signed up for American Film Market (AFM)—but there are others (e.g. IMDBPro). They will have contact details for production companies & people.
You don't want to spam folks—that's a good way to piss people off—but you can reach out to professionals in your realm of expertise for advice. Always do your research to make sure your interests align with the production company.
Tap into Your Existing Contacts
Ask friends and family if they know anyone who's in the film industry and willing to talk to you. Some people may have direct connections with production companies, sales & distribution experts, and investors.

ATTENDING FILM MARKETS & FESTIVALS
Start with Regional Film Meetings & Festivals
Most cities and states have small-ish film industry associations that host conferences and meetings.
Attend them when you can
Listen to what's happening in your region
Ask relevant questions after the talks
Thank the speakers individually
Exchange contact details with attendees
Smaller venues make it easier to meet people and have real conversations. And regional experts will have ties to national & international experts.
Attend Online Film Industry Events
Many festivals & film organizations use Eventbrite to organize their events. Every week, you'll find Online Film Industry Events being listed. Many of these virtual talks & workshops are free! Choose the ones that interest you, ask questions, participate in the chat, and follow-up. You'll also acquire tons of useful resources along the way. 
Attend National & International Markets (In-Person or Online)
In the past, this was expensive for indie filmmakers. But organizers are adapting to the new reality with virtual/hybrid versions that include a lot of networking opportunities. FilmFreeway has a searchable database of global film festivals. Here are some big markets to consider:
International
U.S.-Based
Remember that you don't always need to go to a market or festival that's marketed toward your job type. Instead, choose an event that attracts people you'd like to have on your team. For example:
If you need "name" actors for your microbudget horror film, you might attend a horror festival with actor presentations & parties.
If you need a producer, go where the producers go.
I've met a bunch of wonderful film composers at AFM who were there to make contacts with filmmakers.
Talk to Everyone
Some people go to conferences and try to nab the established producer who just gave the keynote talk. That's shortsighted. If you wish to work in the business for a long time, you want to be meeting—and supporting—the up-and-comers.
So talk to everyone, from the PA handling the crowds to the person representing the unions. You may be working with them in the future.
Arrange Virtual Follow-Ups
If you really like the mind and work of someone you talk to:
Suggest that you meet virtually afterward to learn more
Connect with them via LinkedIn
Highlight their work on your own social channels

MAKING INDUSTRY FRIENDS
Build Long-Term Relationships
The most important networking tip? You're doing all of this to build relationships. That means your project comes second.
So don't push your agenda too hard when you chat to people. Instead, listen to your contact's story, ask questions, and explore ideas. Your intro will tell the person what you're up to—if they like you and want to follow up, they will.
Connect with Me
I'm a screenwriter & HarperCollins author. My wheelhouse is character-driven dramas with a unique sense of place. Read up on my films, connect with me on LinkedIn, or email me to start a discussion.