AUTHOR. PLAYWRIGHT. SCREENWRITER.
1/2 Brit and 1/2 Yankee, Elinor currently resides in New England. In 1992, she immigrated with her family to the South Island of New Zealand and lived there for eight years. She still considers it a beloved homeland.
In 2000, Elinor took a (very) slow plane to England for doctoral studies at the University of Cambridge. She explored the Old English Riddles—lyrical poems in the language of Beowulf. She graduated with a Ph.D. in 2005.
Her work includes books, plays, and films, as well as poems and travel writing.
---
COPYWRITER & PHOTOGRAPHER
To earn her daily bread, Elinor is a freelance copywriter at Squam Creative Services. Over the years, she has helped to create multiple websites and marketing pieces, including a range of higher education projects. She is also a self-taught photographer. Her work has been recognized by:
Smithsonian Magazine
Northshore Magazine
Classic Boat Magazine
Red Cedar Review
Brink Magazine
Visit her photo gallery at Squam Creative Services.
---
ACTOR & DIRECTOR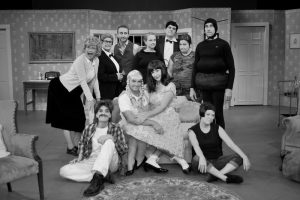 Elinor is an alumna of Shakespeare & Company's month-long intensive and acts in the Massachusetts area. She also directs (e.g. Studs Terkel's American Century). In the past, she has appeared as:
Viola in Twelfth Night
Isabella in Measure for Measure
Trinculo in The Tempest
Suzanna in Becky Shaw
Meg in Leading Ladies
Leroy in The Bad Seed
Ruth in Blithe Spirit
Maureen in The Beauty Queen of Leenane
---