THE TREASURE OF MAD DOC MAGEE
Junior Library Guild selection! Find it in your local bookstore or library; online via Amazon, IndieBound, or HarperCollins; or online via shipping from Australasian retailers (e.g. Wheelers Books; Dymocks; Booktopia).

"Peppered with colorful phrases and puzzles, this wild adventure will captivate readers from its humorous opening scene until its breathless climax involving a mountainside holdup and a surprising savior." School Library Journal
When a mysterious skeleton map is discovered in a Gold Rush town, it's up to a pair of sharp-witted girls to decipher the clues and uncover their fortunes. An excellent choice for kids who love Sherlock Holmes and word puzzles.
Suitable for ages 10-13. Note: Book addresses topics such as racism, environmentalism, and neurodiverse thinking.

---
THE MECHANICAL MIND OF JOHN COGGIN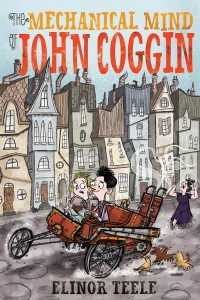 Kirkus starred! Find it in your local bookstore or library and online via Amazon, IndieBound, and HarperCollins.

☆ "A sly, side-splitting hoot from start to finish." Kirkus Starred Review.
"Adventures, high stakes, and risks propel this debut novel forward at a breakneck pace. Eccentric characters, mean guardians, and improbable situations, many involving poop, will appeal to middle-grade readers." Booklist
At the age of 11, John Coggin is a thwarted inventor and expert coffin maker. When his horrible Great Aunt Beauregard decides that his sister Page should work for Coggin Family Coffins, John takes matters into his own hands. Accompanied by an accident-prone acrobat named Boz, the two siblings embark on a series of explosive adventures.
Suitable for ages 8-12.