THE TREASURE OF MAD DOC MAGEE
Junior Library Guild selection! Find it in your local bookstore or library; online via Amazon, IndieBound, or HarperCollins; or online via shipping from Australasian retailers (e.g. Wheelers Books; Dymocks; Booktopia).

"Peppered with colorful phrases and puzzles, this wild adventure will captivate readers from its humorous opening scene until its breathless climax involving a mountainside holdup and a surprising savior." School Library Journal
Plot Synopsis
In the spirit of Indiana Jones and Pale Fire comes a treasure hunt like no other!
When a mysterious skeleton map is discovered in a Gold Rush town, it's up to a pair of sharp-witted girls to decipher the clues and uncover their fortunes. An excellent choice for kids who love Sherlock Holmes and word puzzles. Suitable for ages 8-12.
---
THE MECHANICAL MIND OF JOHN COGGIN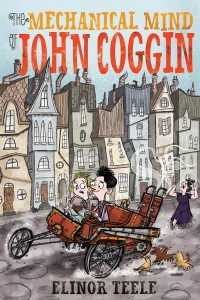 Kirkus starred! Find it in your local bookstore or library and online via Amazon, IndieBound, and HarperCollins.

☆ "A sly, side-splitting hoot from start to finish." Kirkus Starred Review.
"Adventures, high stakes, and risks propel this debut novel forward at a breakneck pace. Eccentric characters, mean guardians, and improbable situations, many involving poop, will appeal to middle-grade readers." Booklist
Plot Synopsis
At the age of 11, John Coggin is a thwarted inventor and expert coffin maker. When his horrible Great Aunt Beauregard decides that his sister Page should work for Coggin Family Coffins, John takes matters into his own hands. Accompanied by an accident-prone acrobat named Boz, the two siblings embark on a series of explosive adventures. Suitable for ages 8-12.
---
FISHER JIM – FREE EBOOK FOR KIDS
A free chapter book for kids who love the ocean! Suitable for ages 8-12. Illustrated by Spike Wademan.
Jim Tucker is having a tough year. His parents have decided to separate. He has flunked most of his school tests. And the less said about the gummed-up sewage pipe, the better.
When his Dad says that there will be no fishing tomorrow, his collapse is complete. But Jim has a cunning plan. Sure, it may involve "borrowing" the family skiff, playing chicken with the Harbormaster, and racing the Coast Guard, but these are trivial challenges for a boy born and bred on the Fisher River.
As Jim takes his boat down the Great Marsh, he begins to develop a strategy about how to catch the biggest prize of all—his Mom. If he can lure her back home, then life is bound to improve.
Unfortunately, the weather has other ideas. Any fisherman can conquer a clogged fuel filter, vicious seagulls, and nosy adults, but what will he do about the storm?
---