FULL-LENGTH FEATURE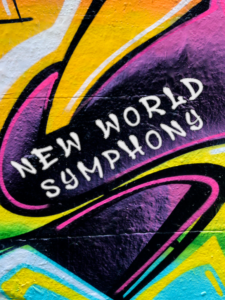 In a musically-charged odyssey, two oddball teenagers forge a friendship during a day in Melbourne, become separated, and must find their way back to each other.
FILM VALUE
Low-budget comic drama
Classic "Coming of Age" narrative
Unusual musical structure
Opportunities for stunning visuals
COMPS
SYNOPSIS
NEW WORLD SYMPHONY is a vibrant comic drama that celebrates the unusual friendship of two weird & wonderful kids. In the streets of Melbourne, Adam—an artistic 13-year-old—crosses paths with Angela—a lonely Kiwi girl. Over the course of one magical day, they cement a friendship that is split apart by fate.
Years later, Adam is a wandering graffiti artist in Australia and Angela is a young adult trapped by circumstance in the South Island of Aotearoa New Zealand. As they fight to break free of their surroundings, they keep being reminded of their long-lost soulmate. But in a world full of billions of people, how will they ever find each other?
MUSICAL STRUCTURE
The title of NEW WORLD SYMPHONY is a giveaway – the film is structured in 4 movements. Each kid starts with a unique musical leitmotif. These become entwined together in the main theme. As the two protagonists visit new places and meet new characters, additional musical ideas are introduced and incorporated into the score.
Like SWEENEY TODD, the score foreshadows events in the plot. Secondary characters appear to be random, but pop up again in later movements to help reunite the separated pair. Conversations in the first movement are reinterpreted in subsequent scenes.
The protagonists may think they're behaving of their own free will. But the music is signalling to the audience that these two magnetic forces are bound to be together.
DEVELOPMENT
NEW WORLD SYMPHONY is in the early stages of development. Elinor has a 5-page treatment with a detailed outline of the plot and 10 pages of the script as a sample.
She is looking for a Kiwi or Australian producer who is interested in developing the story and helping to raise money to shoot the first 10 minutes of the film in Melbourne. This can then be used as a proof of concept for investors.