COMEDY: 4M & 3F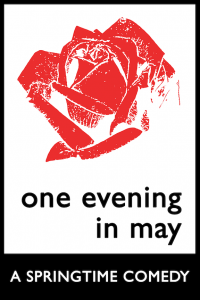 This poetic comedy follows the fortunes of the Greenwood family over the course of one magical May night.
Nick, the patriarch, is attempting to keep the crows from devouring his rare cultivar. Nora, his wife, is trying to ensure he wears trousers. Rose, their daughter and an army veteran, is at war with her precocious son, Will. Will is at odds with Rose's partner, Peter. Lust, lunacy and a duel or two must ensue before love can conquer all.
Staged reading at the Annisquam Library
---
EXCERPT
ACT I, Scene 1
(May. A Saturday afternoon in a garden. There is a flowering crab apple tree, a former outhouse – now used as a tool shed – and a garden bench. There is also a small raised flowerbed enclosed in a complicated set-up of fencing and netting. NICK, dressed in overalls, is cradling an air rifle and sitting on a collapsible army chair next to the flowerbed. A crow caws offstage. NICK raises the air rifle and shoots at it. There is phfft and a thud.)
NICK
Nevermore.
(Enter NORA.)
NORA
Nick! What are you doing?
NICK
Ridding the world of terrorists.
NORA
We're going to have the police here again!
NICK
A man is perfectly entitled to purge vermin from the earth.
NORA
Not when they land in his neighbor's yard.
NICK
Benedict won't mind.
NORA
I mind!
(NORA hears something.)
NORA
That's Rose. Quick, hide the gun.
NICK
I'm not planning to shoot her.
NORA
Just get rid of it. Quickly!
(NICK hides the air gun. A crash follows.)
ROSE
(offstage)
I don't want to hear another word!
WILL
(offstage)
Then you shouldn't have asked!
(Enter ROSE carrying a mangled present, followed by WILL, dressed in a velvet suit.)
NORA
What's wrong?
ROSE
Will claims to be love.
WILL
I am in love!
ROSE
Poetry is not love.
WILL
Love is not sex!
ROSE
It is if I say it is!
NICK
Is that our anniversary present?
(ROSE hands NICK the present.)
ROSE
It was. Until Shakespeare over there made me drop it.
WILL
I did not make you drop it! You're incompetent.
ROSE
I am not incontinent!
WILL
Incompetent!! You never listen.
ROSE
I always listen! I just don't always hear.
NICK
Quiet!
(gesturing to the netting)
You'll upset her.
NORA
Thank you love, that was very thoughtful. Now what's the matter?
ROSE
He's been writing poems to a girl.
NORA
Love poems?
NICK
Is there any other kind?
NORA
So what's the problem?
ROSE
He refuses to see her! Or even talk to her! He says that literary love exists on a higher plain of purity.
NORA
It can't be as bad as all that.
ROSE
Do you know what I found under his mattress, do you?
WILL
Mom!
ROSE
The Complete Works of Keats.
NICK
Disgusting.
ROSE
Why can't you read dirt like a normal 14-year-old?
WILL
I don't expect you to understand, you're old! You look at this garden and see manure and mulch. You don't notice the delicate veins in the white palm of a blossom. You can't decipher the riddle that runs through the sting of a raspberry cane. No, all you think about is shit.
NORA
William!
WILL
Why can't the world be as beautiful as words? Why?!
---