DRAMA: 6M & 3F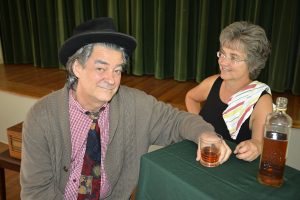 The dramatic, true-life tales of Americans who lived through the 1920s-1940s. Produced by special arrangement with the Studs Terkel Estate.
"Studs Terkel's American Century" weaves excerpts of interviews from My American Century into an interactive evening of music & storytelling. All words are taken verbatim from Terkel's book.
The premiere was produced by Cape Ann Theatre Collaborative at the Gorton Theatre, Home of Gloucester Stage. Elinor also acted as director and co-producer.
---
EXCERPT
ACT I, Scene 1
(A Chicago saloon called Studs' Place. There is a large bar on-stage serving wine & beer to the audience. 1920s music is playing. Actors mix and mingle with the crowd throughout the pre-show. At the start of the show, the owner of the bar turns down the radio. The lights dim, but do not drop on the audience. Studs Terkel steps forward.)
STUDS TERKEL
As an observer of the human story, I confess to never having been privy to "highly reliable sources." My turf has been the arena of unofficial truth—of the non-celebrated one on the block. It is these faces in the crowd that have most attracted me during my searchings.
I also realized quite early that interviews—conventionally conducted—were meaningless. The question-and-answer technique may be of value in determining favored detergents, toothpaste, and deodorants, but not in the discovery of men and women.
It was simply a case of making conversation. And listening.
DOC GRAHAM
My introduction to Chicago was when a guy got his head blowed off right across from where I went to stay. In that neighborhood where I gravitated, there was every kind of character that was ever invented. Con men, heist men, burglars, peet men: you name it, they had it.
I started boxing in 1925. Five different years, Ring Magazine rated me the most devastating puncher in the profession, pound for pound. I had many injuries in between. My hands, you can see. [He holds out his gnarled, broken knuckles.] In the meantime, I had to step out and make a dollar otherwise. It was never within the law.
I lived from the bottom to the top. I lived as good as you could live. I run the gamut of having a butler and a chauffeur to a flop joint, into an open car over night. I've switched craps, I've run up the cards, I do the complete bit. Every way known to the human brain. I'm probably a rare species that's left.
STUDS TERKEL
Consider Doc Graham, hoodlum. I was on the prowl for a cross-section of urban thought— the American yawp. A mutual acquaintance, Kid Pharoah, insisted that we meet.
DOC GRAHAM
The twenties was a jungle, where only the strong survived and the weak fell by the wayside. In Chicago, the unsophisticated belonged to the Bugs Moran mob or the Capone mob. The fellas with talent didn't bother with either one. And went around and robbed both of 'em.
Since I'm Irish, I had a working affiliate with Bugs Moran's outfit. In case muscle was needed beyond what I had, I called on Moran for help. On the other hand, Moran might use me to help him in one of his operations.
The nature of the operation was: if you had a load of whiskey hijacked, we went over and reloaded it on a truck, while several surrounded the place with machine guns, sawed-off shotguns, et cetera. If you had a speaking acquaintance with Mayor Thompson, you could do no wrong. [Laughs.]
STUDS TERKEL
Was muscle always involved?
DOC GRAHAM
Muscle if you hope to leave with money. Muscle has been going on since the Roman Army conquered the field with a way of life. Survival was the law of the land.
STUDS TERKEL
Across the Midwest, there was a sense of things happening, of propitious times ahead. My own mother was in business for herself. She was May Robson, Apple Annie, a woman of property. Her spirit was the entrepreneur's. Out there, somewhere, was the brass ring.
Take Eva Barnes, tavern keeper. She was born in Riverton, Illinois…
EVA BARNES
… Near Springfield. I came to Chicago all by myself, two months before I was twelve. It was wintertime in 1923, and I had sixty-five cents in my pocket. And the next day, girl friends that I had gone to school with, older than me, they come over and they took me to look for a job at Omaha Packing.
I got in line there. I think there was about two hundred and fifty people, Negro and white. Standing on the platform waiting to be picked up for a job. There was no union in those days. And this employment manager comes out and he says, "Hey, you big one over there"—he points his finger at me. "Hey, you big one." I turned around and he said, "Don't turn around, I mean you. Come here." And I says, "Me?" And he said, "Yeah, you. How old are you, about nineteen?" I says, "Mmm-hmm." [Laughs.] I was afraid to open my mouth. I was only twelve years old.
He says, "You know how to sharpen a knife?" Well, back in the coal mines, we used to butcher our own hogs and our own beef, and I said, "Sure, I know how to sharpen a knife." And he hands over a knife to me and I start sharpening. So he says, "Okay, go to work." So I worked at Omaha Packing Company for quite a while, piecework.
STUDS TERKEL
Her father was a miner. She remembers a girl friend who was widowed seven times in mine disasters; company stores and scrip; five brothers and sisters dead at infancy.
EVA BARNES
My first wedding, I'll never forget as long as I live. I married this coal miner from Bullpit, and we got married in St. Rita's Church, that's just a few miles near where I was born. I was sixteen. Of course, I won't go into the ages of the man.
But the wedding we had in those days—this was 1925—was more than a week long. We went to the farm and bought a whole calf and a whole pig. I think it was 150 chickens and home-brew and homemade wine. Everything was homemade. And we got married in church with everything, bridesmaids and High Mass and everything. The whole works. In fact, even the coal company superintendent, he bought silver for a present for us. And because I danced with him, he gave me thirty-five dollars if I would sell him my wedding shoes. I sold him my wedding shoes, everything was sold. [Laughs.] I was sitting in only my slip, even the dress was sold for me.
---