It was a beautiful day in the neighborhood for the Newburyport Literary Festival. Every year, on the last weekend of April, this free event floods the city with world-renowned authors and very happy readers. You can stroll the historic streets, lose yourself in the bookstores, and find inspiration pretty much everywhere.
On Friday, I was at the Firehouse Center for the Arts to hear Andre Dubus III and New York Times-bestseller Ann Hood chat about Ann's life and writing. (She decided on her first career as an airline stewardess after reading a job description that began: "Do you want a boyfriend in every city?").
Later that evening, I stood in line for dinner with Tom Perrotta, author of Little Children, The Leftovers, and Mrs. Fletcher, and learned about his work with HBO. On Saturday afternoon, I had the pleasure of hearing suspense novelists talk about the importance of a body (missing or thoroughly dead) and fiction writers discuss the challenges of conjuring up Budapest in the 1990s or London in the 1660s.
But the highlight of my visit was participating in a Middle Grade panel with three wonderful creators: Tami Charles, MarcyKate Connolly, and Kimberly Newton Fusco. Our talk was moderated by Nock/Molin librarian Ellen Menesale and two local 8th graders (Lila Gridley and Nolan Elrott). Ellen praised our work to the skies and Lila & Nolan asked the questions that made us think.
So, without further ado, here are 3 new books to add your summer shelves!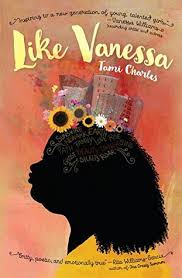 Like Vanessa is Tami's sensational debut novel. Already it has been the winner of a 2017 SCBWI Book Launch Award, a 2018 "Indies Introduce" Selection, and a Spring 2018 Junior Library Guild Selection. Not only that, but it has also received Starred Reviews from Kirkus, Foreword & Booklist.
SUMMARY: In this semi-autobiographical debut novel set in 1983, Vanessa Martin's real-life reality of living with family in public housing in Newark, New Jersey is a far cry from the glamorous Miss America stage. She struggles with a mother she barely remembers, a grandfather dealing with addiction and her own battle with self-confidence. But when a new teacher at school coordinates a beauty pageant and convinces Vanessa to enter, Vanessa's view of her own world begins to change. Vanessa discovers that her own self-worth is more than the scores of her talent performance and her interview answers, and that she doesn't need a crown to be comfortable in her own skin and see her own true beauty.
FESTIVAL FUN: During the panel, Tami talked about her childhood, when she used to watch the Miss America pageant on television. She spoke eloquently about the importance of role models (there were tears in the audience's eyes), and the moment when her own character, Vanessa Martin, watches Vanessa Williams win the crown. Put this book on your shelf!
Lovers of middle grade fantasy will adore MarcyKate Connolly's Shadow Weaver. This Amazon Best Book of the Month received a Starred Review from Booklist and Shelf Awareness, which called it "a fresh take on magic and friendship not to be missed." Avid readers will be especially pleased to hear it's the first in a two-book series.
SUMMARY: Emmeline's gift of controlling shadows has isolated her from the rest of the world, but she's grown to be content, hidden away in her mansion with Dar, her own shadow, as her only company. Disaster strikes when a noble family visits their home and offers to take Emmeline away and cure her of magic. Desperate not to lose her shadows, she turns to Dar who proposes a deal: Dar will change the noble's mind, if Emmeline will help her become flesh as she once was. Emmeline agrees but the next morning the man in charge is in a coma and all that the witness saw was a long shadow with no one nearby to cast it. Scared to face punishment, Emmeline and Dar run away. With the noble's guards on her trail, Emmeline's only hope of clearing her name is to escape capture and perform the ritual that will set Dar free. But Emmeline's not sure she can trust Dar anymore, and it's hard to keep secrets from someone who can never leave your side.
FESTIVAL FUN: One of the questions kids asked MarcyKate was how she came up with the special abilities that a chosen few receive when the Cerelia Comet passes over their lands—Emmeline can weave shadows, but other kids in the book can manipulate phenomena like the light and the wind. It turns out MarcyKate is a classically trained soprano, which gave her the inspiration for the child with a singing gift. Once you've read Shadow Weaver, be sure to check out MarcyKate's other fantastical tales, including Monstrous, Ravenous, and more.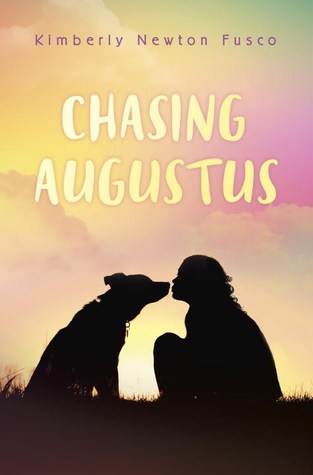 The truest friendship is between a girl and her dog. Kids who read Kimberly Newton Fusco's latest heartwarming novel, Chasing Augustus, will know this for sure. The recipient of a Kirkus Starred Review, it has been called "a delightful, often heart-wrenching, and not-to-be-missed story" by the Christian Science Monitor.
SUMMARY: Rosie's led a charmed life with her loving dad, who runs the town donut shop. It's true her mother abandoned them when Rosie was just a baby, but her dad's all she's ever needed. But now that her father's had a stroke, Rosie lives with her tough-as-nails grandfather. And her beloved dog, Gloaty Gus, has just gone missing. Rosie's determined to find him. With the help of a new friend and her own determination, she'll follow the trail anywhere . . . no matter where it leads. If she doesn't drive the whole world crazy in the meantime.
FESTIVAL FUN: Kimberly's first book (first written and first published!) was Tending to Grace, which garnered Starred Reviews from Booklist and School Library Journal. Like her protagonist, Kimberly was a bookworm & bibliophile who stuttered as a child. And it was writing that gave her a voice. After you've accompanied Rosie on her quest, head down to your library for Kimberly's other books, including Beholding Bee, The Wonder of Charlie Anne, and more.