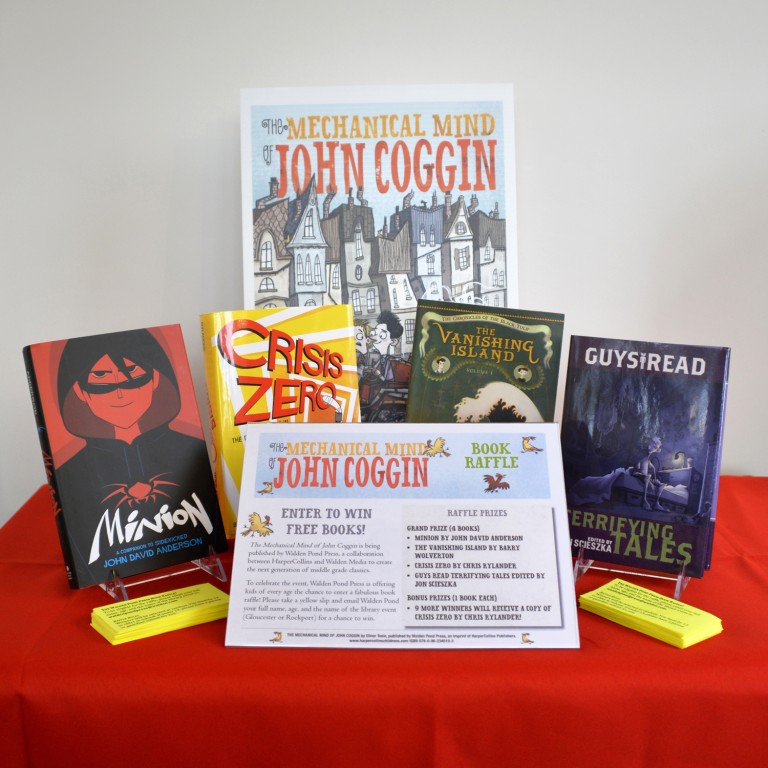 Bookshelves looking bare? Come to the Sawyer Free Library on April 16, 2016 OR the Rockport Library on April 21, 2016 for the launch of The Mechanical Mind of John Coggin and enter the free book raffle!
Visitors (of every age) will have the chance to win books from Walden Pond Press, a collaboration between HarperCollins and Walden Media to create the next generation of middle grade classics.
Only kids who attend either one of the library events are eligible to win, so mark your calendars for a fun-filled afternoon in April Vacation Week! There will be LEGO® building, steam engines, word games, interactive readings, and much more.
BOOK RAFFLE PRIZES
Grand Prize: 1 lucky winner receives 4 books—Crisis Zero by Chris Rylander, The Vanishing Island by Barry Wolverton, Guys Read: Terrifying Tales, and Minion by John David Anderson.
Super Bonus Prizes: 9 extra winners receive a copy of Crisis Zero by Chris Rylander!
ABOUT THE MECHANICAL MIND OF JOHN COGGIN
Crashing into bookstores on April 12, 2016, The Mechanical Mind of John Coggin is aimed at kids of all ages—but especially tweens and middle graders. Full of zany humor and unusual language, it has already received a Kirkus Starred Review!