The Treasure of Mad Doc Magee: Book Launch Party
August 25, 2018 @ 1:00 pm

-

4:00 pm

Free
Celebrate the end of summer with a hunt for literary treasure! From the acclaimed author of The Mechanical Mind of John Coggin comes a funny, heartfelt, rip-roaring puzzle box of an adventure about grit, guts, and gold.
LAUNCH PARTY
The Treasure of Mad Doc Magee is being published on August 21, 2018. A neighborhood party at the Annisquam Village Hall in Gloucester, MA is being planned for Saturday, August 25, 2018 (1-4 PM).
Activities & fun will include:
• 2 PM Performance: Author reading & mini-treasure hunt with cipher clues. (If demand is high, Elinor will repeat the performance at 3 PM!)
• Kids' Corner: Decorate your own book bag, pose for photos with Fred the Skeleton & build LEGO constructions.
• Yummy Food: Delicious nibbles & cupcakes from Willow Rest.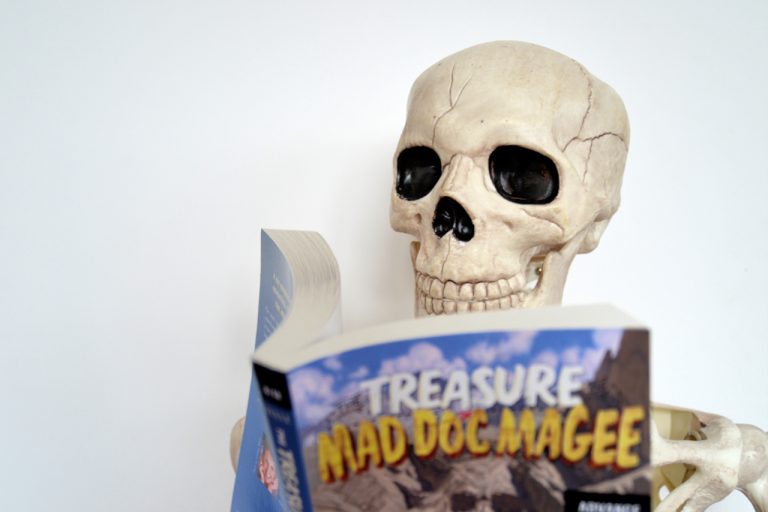 BOOK SALES
Hardcover copies will be available for $15 – Cash or Check Only.

• If you plan to purchase a book this way, please email Elinor ahead of time so she can set aside your copies and have your change ready.
• You can also pre-order the book from your local bookshop, Amazon, and Barnes & Noble.
ABOUT THE BOOK
• Age Range: 8-12 years
• Genre: Adventure/Mystery
• Publisher: Walden Pond Press, an Imprint of HarperCollins
• Cover Illustrator: The talented Forrest Dickison
• Kid Interest: Feisty Female Protagonists, Puzzles Within Puzzles, Identity & Understanding, Vivid Gold Rush Town, New Zealand Landscape
The small, run-down town of Eden is the only place Jenny Burns has ever called home. The roots of the trees are in her bones, the air of the mountains is in her breath, the lakes and rivers are in her blood. And that's why when her father loses his job and tells Jenny that they may have to move on from Eden, she knows she can't let that happen.
The fever of the New Zealand gold rush still runs in the veins of Eden, and everyone knows the legend of Doc Magee: how he found the largest gold nugget anyone had ever seen and hid it somewhere in the hills before he disappeared. Jenny and her best friend, Pandora, know that if they can find the gold, it'll solve all their problems.
But the way is fraught with mysteries, riddles, and danger—and those are just the threats they know about. Before her quest is over, Jenny will have to face challenges from within as well as from without.