MEET ELINOR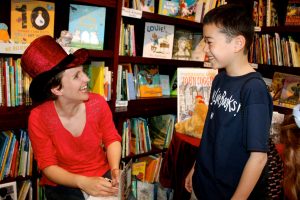 Elinor Teele loves talking to kids (of all ages) in-person and virtually. She has presented at schools, libraries, and bookshops.
Visits can include 50-minute talks, classroom workshops, author readings, Q&As, and more!
Be sure to check out her Activities & Projects section, which includes educational kits created by K-12 teachers.
Many activities align with Common Core & state-mandated standards and can be incorporated into Elinor's visit.
You can view Elinor's upcoming schedule in Events.
Please feel free to contact her with questions and requests. She'll be happy to send you an Author Visit Guide with answers to many of your logistical questions.
---
REVIEWS FROM THE WILD
Rindge Avenue Upper School, Cambridge MA
I could not recommend Elinor Teele highly enough if you are looking for an author visit for your school. I have a lot of author-hosting experience at this point, so believe me when I say that few have their presentation as well-planned and targeted as she did.

This was way more than "let me tell you about my book and my life as an author"—she taught a complete storytelling lesson to a roomful of giddy last-period-on-Friday 6th graders with the skill of a professional teacher.

Samantha Musher, Library Technology Specialist
Pathways for Children, Gloucester MA
"Thank you for your delightful presentation to the children at Pathways yesterday afternoon! The way you were able to capture their attention from the very start was terrific. And I wouldn't be surprised if you sparked several of them to write a book!"

Robin Holmberg, Volunteer Coordinator
---