Open: 7 days a week
Address: 504 Main Street, Medfield, MA 02052 (Southwest of Boston)
Parking: Free parking outside the store
Highlights:
Largest children's bookstore in New England
Fabulous Yelp reviews
Make Your Own Pottery in the Pottery Place
Outdoor patio for reading & painting
Summary: One of my favorite spots in the world! The owner (Jim James) is an absolute sweetheart and his staff have the sunniest smiles. There is an extensive selection of books—including used books and titles on school reading lists—and tons of exciting toys. Find a cozy chair or check out the aquarium & the wall mural. The accompanying Pottery Place is a popular choice for kids' parties, but drop-ins are equally welcome.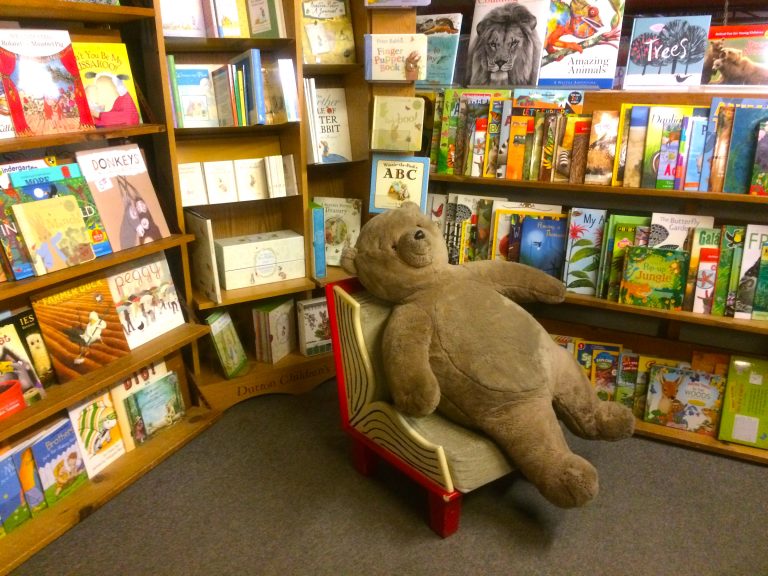 Open: 7 days a week
Address: The Tannery Marketplace (Mill #1), 50 Water Street, Newburyport, MA 01950 (Northeast of Boston)
Parking: Free parking in the Tannery Marketplace lot
Highlights:
Summary: Bless the lovely Sue Little for the creation of Jabberwocky Bookshop! Founded in 1972, this Newburyport independent has a book or magazine for every taste. Upstairs is an extensive children's section, full of cozy corners and unexpected friends. Downstairs is a stroller-friendly area for toddler & infant books. The store is particularly strong in non-fiction. For a day of fun, combine your trip with a visit to the Farmers' Market.
Open: 7 days a week
Address: 61 Main Street, Gloucester, MA 01930 (Northeast of Boston)
Parking: Metered street parking & large lots along Rogers Street
Highlights:
In the heart of downtown Gloucester
Strong selection of local authors & Cape Ann history
Restaurants & gift shops up and down Main Street
Summary: Heading to Gloucester for a trip to the beach, whale watching, a schooner sail, or any of the 101 things to do on Cape Ann? Be sure to visit Arwen and her staff at The Bookstore! It's a small shop, but it has a lot of local flavor and a number of sea-tinged books for your toddlers. Middle grade & young adult readers will also find treasures. Once you've finished browsing, pick up a loaf of bread at Virgilio's Italian Bakery or pastries at Caffe Sicilia.
Open: 7 days a week
Address: 1 Jfk St, Cambridge, MA 02138 (Harvard Square)
Parking: Metered street parking is very competitive. It's easiest to take the T to Harvard Square (subway or bus). The store is a few steps from the stop.
Highlights:
The only brick & mortar store for Curious George™ merchandise
Wide selection of children's books & toys
Friday story times
Summary: Visit this Cambridge institution before the year is out! There had been talks that the bookstore would move to another location in the area, but it's currently smack-dab in the heart of Harvard Square. Fans of H.A. & Margret Rey's inquisitive monkey will find plenty of Curious George™ books, stuffed toys, games, and memorabilia. But the store also supports other authors and illustrators, including middle grade writers.