I
Anyone who has traveled in New Zealand's Central Otago remembers the drive through the Kawarau Gorge. The road is a thrill ride, skirting the cliffs of the Kawarau River under the glare of the mountains.
Surprisingly, the Gorge also holds a valley called Gibbston, a raggedy patch perched 320 to 420 meters above sea level. Gibbston's soil – a hodgepodge of river gravel, glacial leftovers and sandy soils from erosion – may hate most crops, but there's one thing it adores: Pinot Noir grapes.
"Pinot Noir was one of the first varieties that I and the people at Rippon planted in the early days. And it put its hand up immediately. Pinot Noir in those very early plantings said, 'I like it here! Plant more of me!'"
A summer rain is beating down on the whitewashed walls and red roof of Gibbston Valley Winery. Despite the weather, the lunch tables are packed with well-heeled foreign diners. And Alan Brady, the winery's founder, is giving me a briefing how Central became the Pinot capital of the New World.
Brady is a soft-spoken former journalist who still retains the burr of his Country Down roots. He began planting vines in Gibbston in the early 1980s, around the time that pioneers like Ann Pinckney and young guns like Rob Hay of Chard Farm were starting their own experiments.
They were roundly ridiculed. Experienced viticulturalists told them the climate was too harsh, the frosts too lethal and the rabbits too voracious. Perched on the 45th parallel, the sub-regions of Central – Alexandra, Bannockburn, Lowburn, Bendigo, Cromwell, Wanaka and especially Gibbston – were considered too cool to support grapes on an industrial scale.
Thirty years later, Brady cannot be faulted for displaying some pride in their persistence:
"I don't know why I thought of grapes. I thought, looking around, this is the kind of landscape where grapes grow in Southern Europe. And I kept some climate readings and decided I'd give it a go, despite the advice I got that it wasn't likely to succeed. We proved them wrong."
That's not to say it wasn't difficult. There was little advice available and the nearest vineyards were hours away. The pioneers made plenty of mistakes.
Fortunately, for every batch spoiled by the taint of rubber seals (the infamous "Dunlop" vintage), there were pleasant surprises. Though Alexandra and the Cromwell area had higher temperatures, Brady discovered that Gibbston gave his site hidden advantages. The steepness of north-facing slopes, the heat from the sun-warmed rocks and the constant movement of air created by the force of the Kawarau River protected vines from the worst of the frosts. It was worth pursuing, the pioneers agreed, if they had the guts to hang on.
In 1987, Gibbston Valley released its first commercial vintage, though it was Pinot Gris, not Noir, which created the most excitement. It would not be until the 1990s that the dark lady emerged as the queen of the vines.
II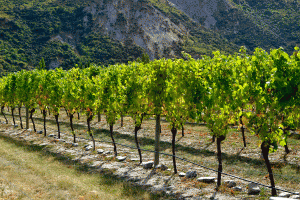 Today, 70% of wine grown in Central is Pinot Noir. On the face of it, this seems like a death wish, since Pinot Noir is a notoriously difficult grape to grow. "God made Cabernet Sauvignon," André Tchelistcheff once remarked, "whereas the devil made Pinot Noir." Sun exposure, wind, frost, cropping, pruning, soil composition – any change in condition can affect the vines.
To add insult to injury, the grapes are particularly thin-skinned. This makes them less able to fend off attack from disease. In the winery, their delicacy increases the difficulty of processing. Even if winemakers have managed to bring their grapes to the ideal ripeness (underripe grapes will taste "green"), they have to be careful not to destroy the aromatics during crushing or barreling.
Ironically, in Pinot's pickiness lies its glory. Unlike a variety like Shiraz, which smacks you on the upside of the head with initial flavor, Pinot is sinewy, mysterious, sexy. In the wines of Central, it's not uncommon to taste fruit in the first sip, mushrooms in the second and wild herbs in the third.
III
In the early '90s, this kind of complexity began to entice new winemakers like Grant Taylor. A Kurow-born Kiwi, Taylor had tasted Rippon's wine on a holiday in 1992 and been struck by the pure fruit flavors and vibrant, lively character. The following year, he moved from the Napa Valley to begin making wine for Brady.
Taylor now has his own scrupulously pruned vineyards at Valli, just down the road from Gibbston Valley. (Like many Gibbston winemakers, he hedges his bets by planting in other areas of Central.) A rusting sign marks the entry as I drive up to the gate. A bitter cold front, typical of the area's changeable nature, has brought unseasonable snow to the mountains. Valli's assistant winemaker, Duncan Billing, is hard at work under the bird nets.
In contrast to Brady's measured prose, Taylor speaks quickly, his rapid-fire delivery tempered by the practical outlook of a farmer. He remembers his first years as extremely cooperative – you could count the wineries on one hand – and endlessly educational.
"There wasn't the same attention to viticulture, people were just learning. There was no leaf plucking by hand, no crop-dropping, nothing really, so your fruit wasn't as good as it could be."
What's more, due to the paltry number of plantings, winemakers were being forced to import grapes from more productive areas like Marlborough.
"One year I remember, Greg Hay from Peregrine had a nursery, just little vines in the ground, and we got a ton, ton and a half of grapes off that nursery. Normally, you'd never ever think of harvesting that. But it was grapes, something to make wine from."
As viticultural techniques and crop numbers improved, so did an awareness of the area's peculiar sub-regions. Geographically, Cromwell is just down the road from Gibbston, but the presence of the mountains produces radically different climates and, of course, grapes. Making wine with smaller vineyards that could not afford winemaking facilities, Taylor became excited by the variety of flavors that were emerging.
This enthusiasm proved infectious. The advent of professionalism in the 1990s attracted the investment of local doctors and lawyers began, followed by film personalities and a wave of foreigners, especially Americans.
Everywhere there was energy. The Hay brothers built Chard Farm; Brady left Gibbston Valley to become a "hands dirty" winemaker at Mount Edward; Sam Neill started Two Paddocks. Suddenly, it seemed, connoisseurs couldn't get enough of Pinot.
IV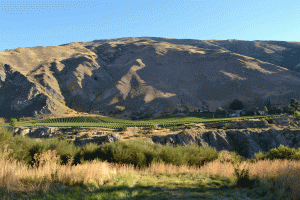 So what is the taste of Central Pinot? It's almost impossible to define. None of the wines I tasted were remotely similar, even those from the same block in the vineyard. Made in Bendigo, Gibbston Valley's spicy, structured 2009 China Terrace was only distantly related to the fruitier, more feminine 2010.
Sampling wines from different sub-regions provides even greater contrasts. Some call Central's Pinots "fruit bombs", rich in dark berry flavors and bigger bodied. But there is a world of difference between Taylor's 2008 Pinot from Bannockburn, a dry, red berry ingénue and his 2008 from Gibbston, a plummy persona with a tinge of acid and a soothing afterglow.
"Wine is supposed to be an expression of a place and a year," Brady insists. "And when you're muddling it up with all sorts of manmade tricks then it becomes homogenous… You can't make wines by recipe. You shouldn't, anyway."
In other words, if you're looking for predictable Pinots, look somewhere else.
V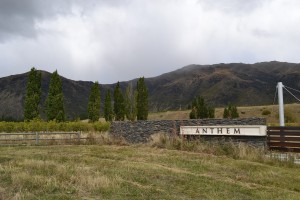 And if you're looking for a romantic retirement project, you may want to reconsider owning a Central Otago vineyard.
Smack in the middle of Gibbston Valley, Anthem Wine Company sits like Banquo's bottle at the banquet. The grass is overgrown, the fences are falling apart. Its once plush vineyards are a depressing mess of unpruned vines and a potential breeding ground for disease.
Anthem is just one of the casualties of the Central wine rush in the 2000s. Like Australians with Shiraz, Germans with Riesling and Marlborough with Sauvignon Blanc, people began to see big profits in small bottles. Pinot was the new gold.
Unfortunately, the global recession had other ideas. With an unpredictable climate, tiny geographic area and vineyards full of low-yield fruit, Central was not placed to compete in the bulk market of the late 2000s. Companies who didn't have a sound financial strategy either gave up or imploded.
The lesson was clear. Winemakers, owners and shareholders needed to be committed to the crop, even when the weather and the economy didn't behave. If you make wine in Central, you have to be in it for the long haul.
VI
"Poor fella, he's going to be plunging by the time he's five years old."
I'm bouncing around in a vineyard truck on a scorching day. Beside me is Stephanie Lambert, Amisfield's young winemaker. Behind us, sitting contentedly in his baby seat, is Jasper, her four-month-old son. The bird guns don't appear to bother him one bit.
Amisfield's Lowburn vineyards and winemaking facilities lie on the two-lane highway from Cromwell to Wanaka, at the foot of the Mount Pisa range. In contrast to the Gibbston Valley, the land here is flat and gentle, with the manmade Lake Dunstan providing the only piercing view of blue-green. The relentless sun beats down on hand-lettered signs for cherries and endless rows of vines.
Lambert is one of Central's new breed of winemakers, having arrived in 2007. With her close-cropped hair and open face, she looks younger than her thirty-odd years. As we drive, she points out the guinea fowl in front of the wheels and the wetlands area that recycles their wastewater.
Though Lambert and her assistant winemaker, Shaun La Franco, are behind Taylor and Brady in years, they share the sentiment that a good wine is made in the vineyard, not the winery.
"In a good year, we get great grapes and we let them speak and we do hands off. And I only have to come and look after it just if it needs looking after. We're the caretakers rather than the makers," Lambert notes.
As befits a Central winery, Pinot forms a large part of Lambert's caretaking tasks – it comprises 75% of Amisfield's plantings. But it is no longer the "be all and end all" of the industry. Riesling, Lambert's next big thing for Central Otago, is rising in esteem. Trial plantings are being made with all kinds of varieties:
"Pinot Noir, Pinot Gris, Sauvignon Blanc, Riesling, even a little bit of Chenin Blanc because our viticulturist is South African."
I taste some of Amisfield's Pinot and Sauvignon Blanc inside the custom-built winery. The gleaming tanks and laboratory may be resolutely modern, but the rooms with the barrels are saturated with ancestral scents. One whiff of wine-saturated oak and it's back to the 12th century.
To prove my point about complexity, the barreled Pinot bears no resemblance to the strong tannins of Bendigo or the wild thyme of Alexandra. It's a true fruit bomb, an explosion of cherry brought on by the heat that beats down on the fields outside.
I ask Lambert the same question I ask Brady and Taylor. How do you know when a wine is right? Does it depend purely on the grapes? Does it come down to the winemaker's tastes or is it a combination of science and luck?
"You do have to use science to make a good wine," Lambert agrees, "but you also have to use your intuition. For me it's all about the vibe. The numbers might look fine, but sometimes the vibe's not quite right. It comes with a bit of experience."
For Grant Taylor, the answer is even simpler:
"Really, the aim is to get that fruit the best it can be to make wine," he suggests. "And the way I think it should be the best. Whether anyone would call that putting a person into it, I don't know. I don't think about it. I just do it."
This article on Central Otago wine was written "on spec" during a 2012 trip to New Zealand. Elinor would especially like to thank the interviewees (Alan Brady of Wild Irishman Wines, Grant Taylor of Valli Vineyards Ltd. and Stephanie Lambert of Amisfield Wines) for taking the time to show her round Pinot Country.

More photographs can be found in Elinor's professional Photograph Gallery. Please contact Elinor directly if you would like to discuss potential articles or interviews.
---