EUROPE
Elinor annotates her photography blog when she heads for parts unknown. Using history and humor, she explores the stories of people, towns, monuments, and more. Check out her work on:
PINOT COUNTRY
Anyone who has traveled in Central Otago remembers the drive through the Kawarau Gorge. The road is a thrill ride, skirting the cliffs of the Kawarau River under the glare of the mountains. Surprisingly, the Gorge also holds a valley called Gibbston, a raggedy patch perched 320 to 420 m above sea level. Gibbston's soil – a hodgepodge of river gravel, glacial leftovers and sandy soils from erosion – may hate most crops, but there's one thing it adores: Pinot Noir grapes.
THE WILD, WILD COAST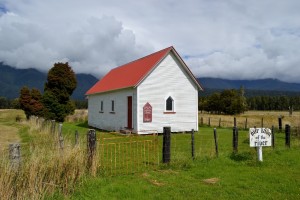 "Course, it's not the drunks but the cows you have to watch out for."
It's Tuesday morning in the home of Trish and Collin, in the township of Fox Glacier. Out there beyond an indistinct blob of gray lies the back end of Aoraki/Mount Cook, New Zealand's highest mountain.