Adventure-lovers, you're in the right place! These 17 Gold Rush-themed books are perfect for anyone aged 8-12. Here you'll discover fiction & non-fiction options, with both U.S. and international settings!
International Middle Grade Fiction
NEW ZEALAND'S OTAGO GOLD RUSH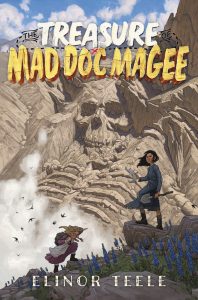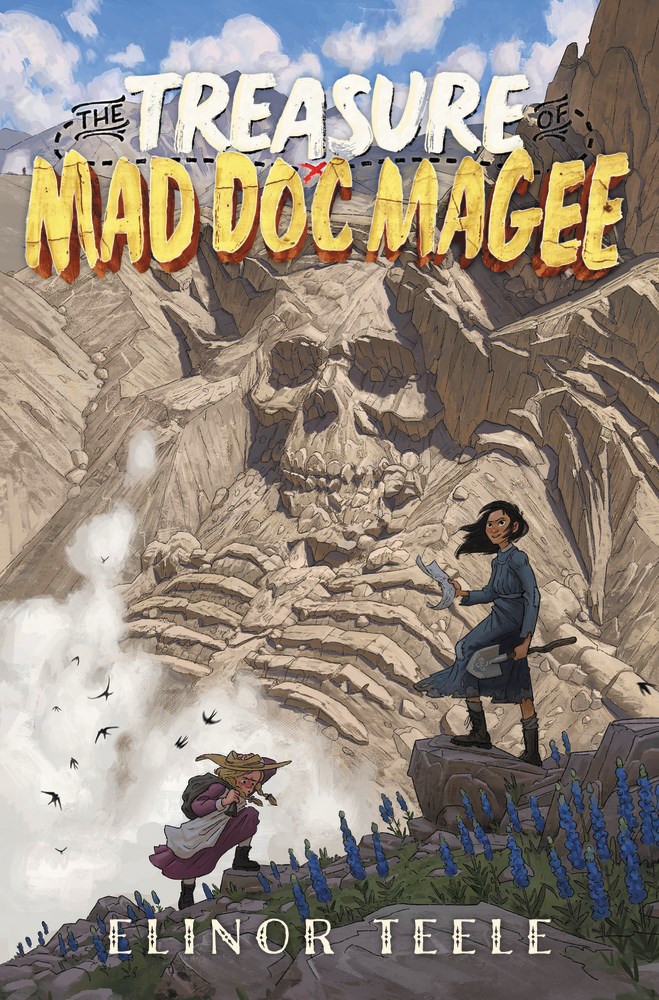 The Treasure of Mad Doc Magee by Elinor Teele, cover illustration by Forrest Dickison
The small, run-down town of Eden is the only place Jenny Burns has ever called home. The roots of the trees are in her bones, the air of the mountains is in her breath, the lakes and rivers are in her blood.
And that's why when her father loses his job and tells Jenny that they may have to move, she knows she can't let that happen.
The fever of New Zealand's Otago Gold Rush still runs in the veins of Eden, and everyone knows the legend of Doc Magee: how he found the largest gold nugget anyone had ever seen and hid it somewhere in the hills before he disappeared.
Jenny and her best friend, Pandora, know that if they can find the gold, it'll solve all their problems.
But the way is fraught with mysteries, riddles, and danger—and those are just the threats they know about. Before her quest is over, Jenny will have to face challenges from within as well as from without.
The Treasure of Mad Doc Magee is packed with exciting STEAM ideas. Check out the free Classroom Guide & Educational Activity Kit from Walden Pond Press/HarperCollins.
Lin and the Red Stranger by Ken Catran
A poignant young adult novel set in the goldfields of Otago during the 1860s gold rush. The story by an award-winning YA writer follows the lives of two young people, both very different, drawn to the goldfields for the same reason – they all hope to strike it rich. One of the main characters is a young Chinese girl, and the other a European boy. As well as being a plot-driven story, this book examines the cultural differences between these two.
Finding Father: The Journal of Mary Brogan, Otago, 1862 (My Story) by Pauline Cartwright
It's been seven years since Mary Brogan has seen her father. He was supposed to have followed the rest of her family from Australia to New Zealand, but he never turned up.
Now a new goldfield has opened up in Otago, and 13-year-old Mary overhears her aunt saying that she's sure Will Brogan will be there, as he always followed the call of gold.
And thus Mary hatches her daring plan – to make the long trek from her home in Dunedin to the Dunstan Diggings to find her father. But to do so, she will need to disguise herself as a boy…
AUSTRALIA'S GOLDFIELDS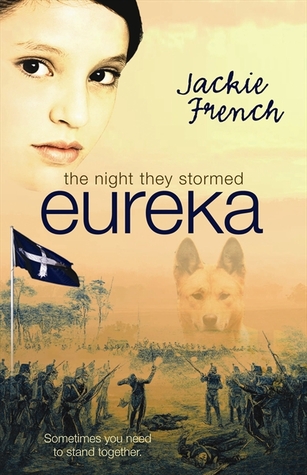 The Night They Stormed Eureka by Jackie French
It's 1854 and the Ballarat goldfields are a place of dreams and rebellion as Sam, a homeless teenager, is called back to the past to join the Puddlehams, who run 'the best little cook shop on the diggings'. The Puddlehams dream of buying a hotel with velvet seats, while others dream of freedom from the British crown, away from the rule of wealthy landowners and corrupt officials. As the summer days get hotter, and the miners' protests are ignored with catastrophic results, Sam experiences first-hand the power of a united stand which will change her life forever.
Meet Poppy (Our Australian Girl Series) by Gabrielle Wang
It's 1864 and Poppy, disguised as a boy, has escaped from the aboriginal mission at Bird Creek near Echuca. Her dream is to find her brother Gus, who ran away to pan for gold. But travelling alone through the Australian bush is full of danger and adventure. Journey with Poppy across all four exciting stories about a girl who dreams of a better life during the Gold Rush. Resourceful, brave, and kind, Poppy is an unforgettable Australian Girl.
U.S. Middle Grade Fiction
FEMALE PROTAGONISTS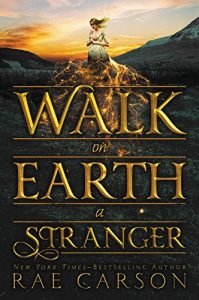 Walk on Earth a Stranger (Gold Seer Trilogy) by Rae Cushman
A young woman with the magical ability to sense the presence of gold must flee her home, taking her on a sweeping and dangerous journey across Gold Rush–era America. Walk on Earth a Stranger begins an epic saga from one of the finest writers of young adult literature.
Seeds of Hope: The Gold Rush Diary of Susanna Fairchild, California Territory 1849 (Dear America Series) by Kristiana Gregory
Susanna Fairchild and her family journey to Oregon from New York to start a new life, but while on the boat, disaster strikes when Susanna's mother is lost at sea, and soon after, her father decides to join the groups of men on a quest to discover gold in California.
The Ballad of Lucy Whipple by Karen Cushman
In 1849 a twelve-year-old girl who calls herself Lucy is distraught when her mother moves the family from Massachusetts to a small California mining town. There Lucy helps run a boarding house and looks for comfort in books while trying to find a way to return "home."
Mystery at Chilkoot Pass (American Girl History Mysteries) by Barbara A. Steiner
At the start of the Klondike gold rush of 1897, while traveling through Canada with her father, uncle, and friends, twelve-year-old aspiring author Hetty tries to determine the identity of a thief.
MALE PROTAGONISTS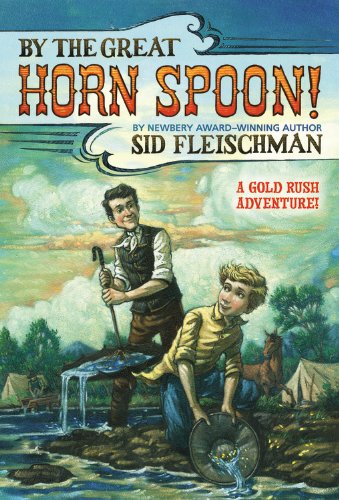 By the Great Horn Spoon by Sid Fleischman
When Jack's aunt is forced to sell her beloved mansion but is still unable to raise enough money to pay her debts, the twelve-year-old goes to California in search of gold to help her. Joined by his trusty butler, Praiseworthy, Jack finds adventure and trouble at every turn. Will Jack strike gold in San Francisco or come home empty-handed?
The Journal of Wong Ming-Chung: A Chinese Miner (My Name is America) by Laurence Yep
It is 1852, and 10-year-old Wong Ming-Chung, or Bright Intelligence–or Runt, as he is most commonly called–has arrived at the gold mines of California after a dangerous journey from China. Exchanging the famine and war of his native country for the brutal bullies and grueling labor in America, Runt joins his uncle and countless others in the effort to strike it rich on the great "Golden Mountain."
Hard Gold: The Colorado Gold Rush of 1859: A Tale of the Old West (I Witness Series) by Avi
14-year-old Early Whitcomb's family is trying desperately to hold onto their Iowa farm during hard times. The local banker is pressuring the Whitcombs to sell their land to the Chicago and North Western railway, promising to foreclose on their mortgage if they refuse. This prompts Early's Uncle Jesse, 19, to head west and find gold, disappearing under suspicion of bank robbery.
U.S. Middle Grade Non-Fiction
GOLD RUSH HISTORY
Gold Fever! by Rosalyn Schanzer
The author of How We Crossed the West: The Adventures of Lewis and Clark uses folk-art style illustrations and eyewitness excerpts from letters, journals, and newspaper articles to relate the story of the California Gold Rush of 1848.
What Was the Gold Rush? by Joan Holub
In 1848, gold was discovered in California, attracting over 300,000 people from all over the world, some who struck it rich and many more who didn't. Hear the stories about the gold-seeking "forty-niners!" With black-and white illustrations and sixteen pages of photos, a nugget from history is brought to life!
The California Gold Rush (True Books) by Mel Friedman
Would you brave blizzards, starvation, unknown territories, and Indians to build a better life for yourself and your family? Journey west with America's pioneers on foot, on horseback, and in covered wagons-from the Mississippi River to the Oregon Trail-in these true stories of courage and survival that shaped our nation.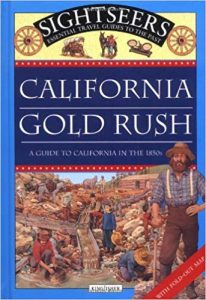 California Gold Rush: A Guide to California in the 1850s (Sightseers) by Julie Ferris
Stake your claim and start prospecting! The travel tips are as good as gold in this fascinating look at San Francisco in the 1850s. Look under headings such as "Shopping," "Accommodation," and "Top Attractions" and you'll find all the information you need to survive in this pioneer town.
GRAPHIC NOVELS
John Sutter and the California Gold Rush (Graphic History) by Matt Doeden (Author), Charles Barnett III (Illustrator), Ron Frenz (Illustrator)
In this action-packed graphic novel, witness the discovery of gold at John Sutter's mill in 1848. Eye-popping, comic book-style artwork and easy-to-read, nonfiction text offer an appealing, accessible alternative for struggling and reluctant readers or any graphic novel fan.
Have a favorite that I haven't included? Contact me with more ideas for this list!
Gold Rush Children's Books