Open: 7 days a week
Address: 577 High Street, Dedham, MA 02026 (Southwest of Boston)

Parking: Metered street parking or a free parking lot on the corner of Eastern Ave & High Street
Highlights:
Summary: Blue Bunny is an absolute treat. Founded by Peter Reynolds, author of The Dot, this jewel box of a bookstore is devoted to children's literature. There are events happening all the time, including creativity workshops and Harry Potter trivia nights, and lots of chances to meet authors in person. There's also a café at the front if your kids want more time to browse. Ask Margie about what to read next!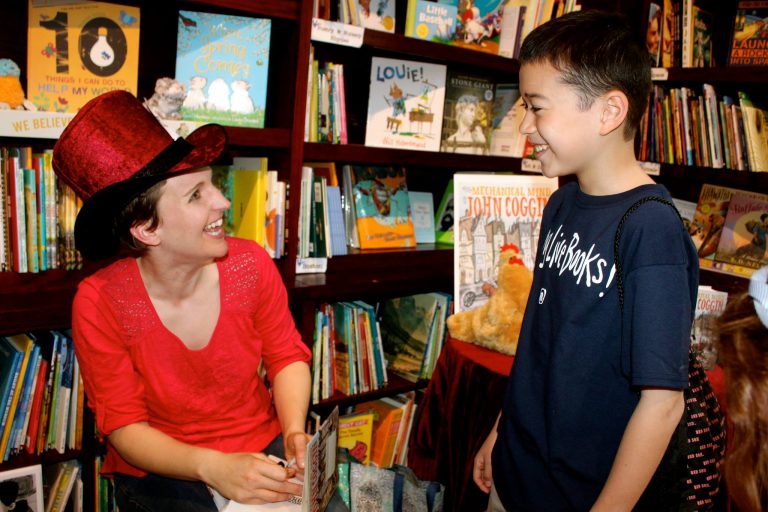 Open: 7 days a week
Address: 111 South Street, Plainville, MA 02762 (Southwest of Boston)
Parking: Free parking lot for the store
Highlights:
Summary: The Disney World of independent bookstores! Located not far from Gillette Stadium, this is a large and gorgeous shop lodged in a former general store. There are exposed wood beams, old barrels, and miles and miles of books for kids & adults. When I was there on a Sunday in June, the place was absolutely packed. Lucky visitors may spot Jeff Kinney, bookstore founder and author of The Diary of a Wimpy Kid.
Open: 7 days a week
Address: 89R Main Street, Andover, Massachusetts (North of Boston)
Parking: Large parking lot next to the store; pay at the kiosk (reasonable rates)
Highlights:
Summary: This storybook shop is the perfect place to be on a cold, snowy afternoon. There's a real fireplace (not in use), reading nooks & crannies, comfy chairs, and a whole room devoted to children's literature. Once you've explored the offerings, you can grab a coffee at Caffé Nero or the Ultimate Perk Coffee Shop or pick up a pizza for dinner at Bertuccis—all within the block. Go on a Saturday and combine it with a visit to the Andover Farmers' Market.
Open: 7 days a week
Address: 47 Main Street, Rockport MA 01966 (Northeast of Boston)

Parking: Metered street parking. Very busy in summer!
Highlights:
Summary: It's hard to miss Toad Hall—it's the granite building (the former Granite Savings Bank) a few doors down from the amazing Shalin Liu Performance Center. Toad Hall is small, but it has a strong selection of local Cape Ann authors, who sometimes make personal appearances. The kids' section is downstairs, via the spiral staircase; there are also used books upstairs. You'll want to make this part of a day trip to the coast!
Best Massachusetts Bookstores for Kids & Adults: Part 1